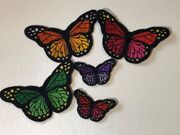 NOTE: This item card is available by Quest only, to patreon/youtube members at the Trouping Level or higher.
►ITEM Butterflytes: Need a lift?  Bearer may call upon a flurry of butterflies that will lift or float them a short distance such as to break a fall or scale a building
►FORMULAE: 1 Use each, before Magical Refill required. Remember to contact an Ovate and let them know that you have used your Enchanted Item.
►JOIN: Our YouTube and/or Patreon to automatically entered into every Enchanted Item drawing that we do!
►SHOP: Our currently available Enchanted Items at The Gilded Quill
►Butterflyte 1 of 3: Nickel of Hades Canyon
►Butterflyte 2 of 3: Flora the Fairy
►Butterflyte 3 of 3: TBD, Quest in Progress
Return to Fe Vault
Community content is available under
CC-BY-SA
unless otherwise noted.