Realm Tree: Kingdom of Storms, New Faerie
Ducal Gentry: Princess Lolly Kilrain
Crest: Old Kingdom, square check border alternating Laeg (green) and Niveous (white), against Laeg (green) ordinary, depicting a charge of Mt. Rainier rising above two wings, crowned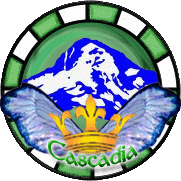 Folkore

[

]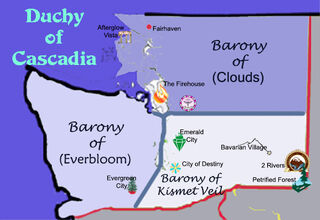 The Duchy of Cascadia is the NW corner of the Kingdom of Storms. It consists of one County and three Baronies, two of which currently have no baronial leadership.
During the time of the Old Kingdom, this area was overseen Duchess Morvyth Vaughn, a young Unseelie Sidhe who favored the darker arts. It is said that the Duchess lived in a great floating abode, Castle Aisling, which hovered over the Puget Sound but it has long since disappeared. Eventually, Morvyth fell to the Long Winter, not to re-awaken and the Duchy defaulted once again to oversight by the only remaining member of the royal family, Princess Lolly.
Residing just outside the Emerald City (Seattle) the Princess assumed direct oversight for Cascadia when Duchess Morvyth faded and oversaw the care of its enchanted footprint, carefully cultivating pockets and hollows in places where the mists between realms blurred.
Notable Places

[

]
Barony of Clouds: OPEN
Afterglow Vista (Friday Harbor)
Firehouse Glass Gallery (Langley)
Fairhaven (Bellingham)
Barony of Everbloom: OPEN
Barony of Kismet Veil: Baroness Patience of Blackwatch
Emerald City (Seattle)
City of Destiny (Tacoma)
Bavarian Village (Leavenworth)
Ginkgo Petrified Forest (Vantage)
2 Rivers (Wenatchee)
Residents

[

]